Southbank City
It's a favourite city centre haunt for sport and live music fans, but there's a serious beer selection there too...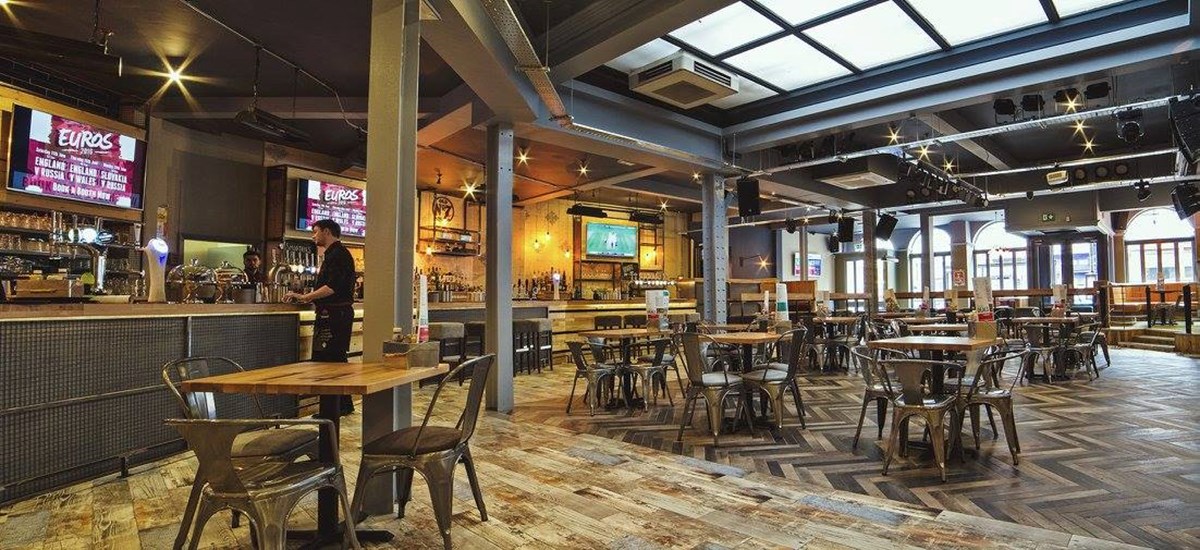 Famous for live sports coverage and live music, Southbank City show every major sports event across 24 4K screens. They also hold special events and Q&A evenings with guests from the worlds of sport, screen and stage.
Their drinks offering is a large variety of beers, cask ales, craft beers and speciality cocktails, as well as all the usual suspects in spirits. The kitchen is open for breakfast, lunch and dinner with consistent deals on offer. If that wasn't enough, they also have a custom-built darts oche, American pool and a PS4.
Recently sampled (via Untappd)
Offshore

Sharp's Brewery - Pilsner - Czech, 4.8%
Drank on Thursday 18 April 2019 at 19:06

star star star star_half star_border

Pravha

Pivovary Staropramen - Pilsner - Czech, 4%
Drank on Saturday 13 April 2019 at 18:17

star star star star_half star_border

Patriot

Navigation Brewery - English Bitter, 3.8%
Drank on Friday 05 April 2019 at 23:46

star star star star_border star_border

Belgian White

Blue Moon Brewing Company - Witbier, 5.4%
Drank on Friday 05 April 2019 at 19:01

star star star star star_half

Carling

Molson Coors (UK) - Lager - Pale, 3.7%
Drank on Friday 05 April 2019 at 18:58

star star star star star

New Dawn

Navigation Brewery - Pale Ale - English, 3.9%
Drank on Tuesday 12 March 2019 at 21:00

star star star_half star_border star_border

Doom Bar

Sharp's Brewery - English Bitter, 4%
Drank on Saturday 09 March 2019 at 18:15

star star star star_border star_border

EPA

Font Craftworks - Pale Ale - English, 4.5%
Drank on Saturday 09 March 2019 at 16:45

star star star star_border star_border

APA

Font Craftworks - Pale Ale - American, 5.2%
Drank on Saturday 09 March 2019 at 16:42

star star star star_border star_border

Southbank City
Friar Lane
Nottingham
NG16DQ
| | |
| --- | --- |
| Sunday | 11:00 - 00:00 |
| Monday | 11:00 - 00:00 |
| Tuesday | 11:00 - 12:00 |
| Wednesday | 11:00 - 12:00 |
| Thursday | 11:00 - 00:00 |
| Friday | 11:00 - 02:00 |
| Saturday | 11:00 - 02:00 |
@SouthbankNottm
7 hours ago
‼️We still have some tables remaining for the Duran Duran Experience - Bank Holiday Sunday - 5th of May‼️ £25 Inclu… https://t.co/QUJfrr4ITn
@SouthbankNottm
6 days ago
Abba Sensation: Dine & Disco Christmas Party Tickets - Southbank Bar - Nottingham City, Nottingham - 19/12/2019 19:… https://t.co/moC44vdzmp
@SouthbankNottm
1 week ago
RT @TotalNottingham: Happy Hour: 30% off all food and drink 4-7pm Monday to Friday at @SouthbankNottm #nottingham #notts #ad https://t.co/C…